Hospitality and Transportation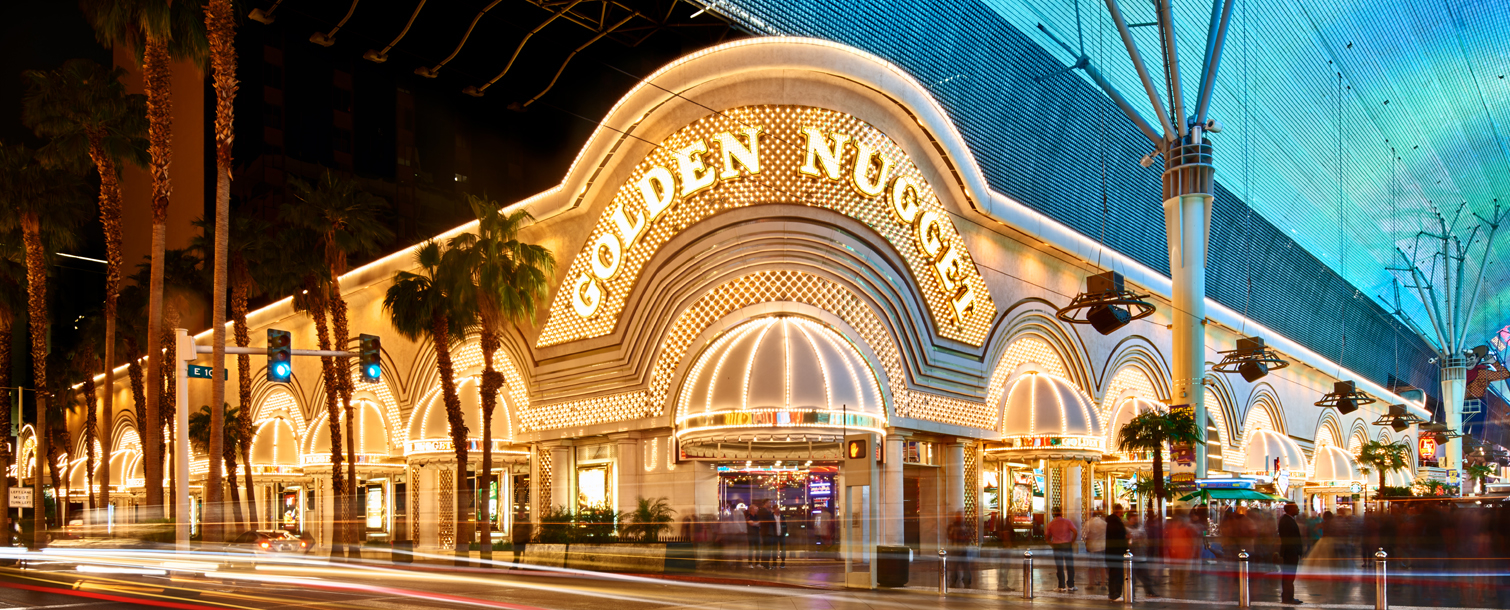 Located in the heart of Fremont Street's never-ending party, Golden Nugget Hotel & Casino offers a hip vintage vibe you just won't find on the Strip. The dazzling light shows. The buoyant live music. The world's largest nugget of gold. You'll be able to experience it all firsthand when you stay at Golden Nugget Las Vegas.
Our Downtown Las Vegas hotel features more than 2,000 inviting rooms and suites designed with a variety of thoughtful amenities. After an adventurous day, dip into our lagoon-style swimming pool, which circles a three-story shark tank with a waterslide running right through it.
Restaurants:
In many cities, it's tough to think of nine great restaurants. In downtown Las Vegas, we can think of nine in just one resort!
Golden Nugget Las Vegas has brought together some serious restaurant talent and expertise to serve up an outstanding collection of culinary offerings, and if you're not hungry at the moment, read on, you will be.
There's something for every taste and price range at Golden Nugget, and these eateries are some of our favorite downtown. Read more!
For other close by eatery options, click here
Transportation:
Bell Transportation runs bus shuttle service from the airport to Downtown Vegas every twenty minutes for $9.00 each way. If you book a roundtrip at pickup, you get $1 off. SuperShuttle (shared service) is $10 each way if you book a roundtrip. Uber costs anywhere from $9-15 each way depending on time of day for up to 4 people (Uber is demand based service which is why the range, prices go up during high demand periods). Best deal by far is Uber if you and your coach are traveling together with golf clubs.
TIU is also making it's corporate discount available with ShipSticks should anyone wish to use them instead of shipping on the airlines (normally $50-60 each way), shlepping golf bags to and from the airport and get them to the hotel. Pricing from east coast and including discount, it runs approximately $65 each way door to door service so your clubs will be waiting at the hotel for you when you arrive. Rate is based on ground service so if you're on the east coast you need to ship at least 5 days prior to your arrival. Three day express is $89 each way. Next day air is $160 each way.
Transportation from the hotel and back is being provided by the Nevada Blind Children's Foundation. We will announce pickup times in the near future. Return times will be 30 minutes after expected finish for the round. We expect three pickups going and coming.
Entertainment close to the Golden Nugget:
The Mob Museum: Explore a dark but fascinating side of Las Vegas at The Mob Museum in downtown Las Vegas. This modern museum, formerly an old federal courthouse and post office, provides a one-of-a-kind view of the history of the mob and the role it had in the creation and history of Las Vegas.
Neon Museum: Get a unique perspective on the history of Las Vegas at the Neon Museum as you explore the retired signs of the hotels that came before the Strip. Come for a tour at night to see the signs as they would have appeared back in their glory days.
Pinball Hall of Fame: This museum's website describes itself as "pinball and nothing but pinball for 10,000 square feet". The Las Vegas Pinball Collectors Club houses and displays over 150 machines, the largest collection of pinball games in the world. Bring a pocketful of quarters and your "A" game!
Slotzilla: Located on the Fremont Street Experience, the Slotzilla zipline gives you a bird's eye view of the world-famous light show on Fremont Street. Schedule a ride after sunset to get the full experience.
Las Vegas 51's: The New York Mets Triple-A affiliate plays at local Cashman Field located in downtown Las Vegas. Catch a summer baseball game and watch the stars of tomorrow before they go pro. Try to attend before the heat of the summer hits and make sure you grab a seat under the misters behind home plate!
Mandalay Bay Shark Reef Aquarium: Experience undersea exhibits dedicated to some of the most dangerous and strange animals in the ocean, including sea turtles, sharks, and even a 10 foot Komodo Dragon. Certified scuba divers can also swim in the shipwreck exhibit with some of the aquarium's most interesting creatures.
The High Roller: A true standout on the Strip, the 550-foot tall High Roller wheel is taller than both the London Eye and the Singapore Flyer. The 30 minute ride gives you an amazing view of Las Vegas Boulevard that's not to be missed.
Desert Pines Golf Club
We invite you to experience the Carolina sandhills, tucked away minutes from the Las Vegas Strip, in the historic part of Las Vegas. As you begin your Vegas golf round at Desert Pines Golf Club Las Vegas, you will feel transported from the closed-in casinos and overpowering glitz to a place where you can enjoy the fresh, calming scent of real pine trees.
Desert Pines Golf Club
3415 E Bonanza Rd