The 2019 USAGA International
An International Disabled Golfing Event

A portion of the proceeds to benefit the Nevada Blind Children's Foundation

Join us October 7-10, 2019 in historic downtown Las Vegas for the 2019 USAGA Paralympic Open . The tournament will begin with a practice round on October 7th with the three round competition commencing on October 8th.
We will be playing at the Dye designed Desert Pines Golf Club. Desert Pines Golf Club's spectacular par-71, 6,222-yard championship layout was etched into the Las Vegas desert at the lowest elevation of any other course in the city, protecting the course from the 20-30 mile an hour winds that can plague some Las Vegas courses.
The iconic Dye Design genius is reflected in every adventurous twist and mischievous turn, with white sand bunkers protecting large, undulating "Dye-abolical" Bentgrass greens and more than 3,500 mature pine trees framing lush rolling greens - transporting golfers from the glitz and glamour of the casinos to the timeless Carolina sand hills.
Balancing strategic diversity with stunning natural beauty, the course is replete with Dye's signature railroad ties and tricky undulations, challenging golfers to use every club in the bag. Four lakes and gorgeous desert fauna and flora add to the allure of the layout, which is known for its outstanding pace of play - with golfers able to finish 18 holes in just four hours in most cases.
. Click here to read more about this iconic golf course
For non golf activities for spouses and guests, check out this website for tours, attractions, shows, and activities.
Our Beneficiary (NBCF) and Our Host Hotel (Golden Nugget)
The Nevada Blind Children's Foundation will receive a portion of the proceeds generated by this event as the USAGA's efforts to further adaptive golf in the communities in which we conduct events. In addition to the sight impaired, we will also assist in furthering golf as lifelong participatory sport in other impairments such as spinal injury, cognitive, wheelchair, amputee, and one limb focused organizations.
NBCF Mission
Nevada Blind Children's Foundation provides the essential building blocks including extended educational curriculum, extracurricular activities, social opportunities, and transitional skills to children who are visually impaired.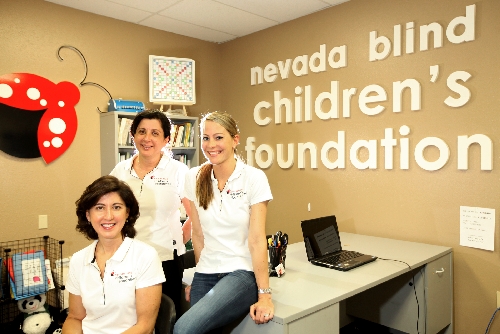 Vision
Visual impairment is a diagnosis, not a disability.
Our Goals
Increase graduation rates and post-secondary education enrollment and/or vocation.
Increase employment rates for blind adults. (approx. 70% are unemployed)
Increase quality of life (i.e. independence, socialization, life skills) for blind or visually impaired children with significant intellectual and/or physical disabilities that prohibit them from graduation and/or a vocation
Our Hospitality Venue

To book your rooms at our discounted rate, your should call the Golden Nugget Reservations at 844-4NUGGET (844-468-4438) and tell them you're a participant in the USAGA National Golf Tournament. Bookings are not available online.